Why the Obamacare fight is never *actually* over
[ad_1]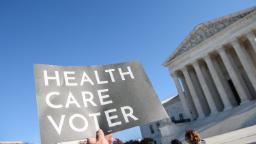 The logical conclusion you might reach from that decision is that finally, after more than a decade, the fight over Obamacare is now officially over.
Which may be true from a legal perspective. But politically speaking, Obamacare will never die. It's a political zombie.
Why? Because whether or not the legal underpinnings of the challenges to ACA have been knocked out (they have), the law represents so much more to Republicans, politically speaking.
For the GOP base, the ACA is about a view of the country that the government is the answer to all of our problems. It's also tied into their lingering distaste for former President Barack Obama, whose name is literally melded with the law. And a belief that the media treated Obama's "if you like your plan, you can keep your plan"
lie
and the disastrous rollout (and repeated crashes) of the website allowing people to sign up for a plan with kid gloves because, well, bias.
[ad_2]

Source link