Trump's new chief spokeswoman, Liz Harrington, has been a serial promoter of election lies
[ad_1]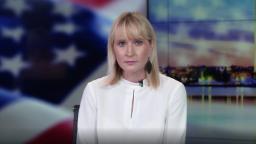 Harrington said in a Tuesday
statement
that it is the honor of her life to represent Trump "and to stand for the truth." But she has been repeatedly and egregiously untruthful about what happened in the election in which Trump was defeated by Joe Biden — falsely declaring over and over that
Trump was the legitimate winner
and that the election was
stolen
from him.
On the day of the Capitol insurrection in January, Harrington falsely
insisted
that the election was being stolen by "communists." And less than a week after the insurrection, she falsely
claimed
that "the real insurrection" occurred during "vote dumps" the morning after Election Day.
Asked for comment for this article, Harrington responded Wednesday by denouncing CNN and arguing again that the election was marred by "numerous anomalies."
November nonsense
Harrington made numerous false claims about the election while working for the RNC in November.
More lies in 2021
"That's when it happened. That was the overthrow," she said.
The so-called "vote dumps" were, simply, large quantities of newly counted votes being added to the public totals as normal.


[ad_2]

Source link