Rising crime puts Democrats on edge (opinion)
[ad_1]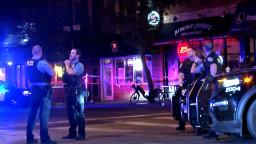 President Joe Biden is set to deliver remarks Wednesday outlining his plan to reduce violent crime. And in New York City, Brooklyn Borough President Eric Adams, a retired police officer, is leading in the Democratic primary. One of Adams' main issues was promising to take a tough stand against crime.
At the most basic level, all Americans want to live in neighborhoods that are free from crime and danger. They want their children to be able to walk the streets without fearing harm. They want to be able to leave their homes without worrying that someone might try to steal their property. They want communities and schools that are peaceful and where violence is not normalized.
For Democrats, concern about such metrics in the approach to a midterm election could easily turn them away from important civil rights issues related to criminal justice.
There have been other periods when Democrats have taken a hard shift toward "law and order" — in which safety equates with tougher policing and more draconian sentencing — based on the belief that this was the only way to ward off Republicans attacking them as "soft" on these issues.
But the policies, such as the 1994 crime bill, have tended to come down stronger on entrenching and expanding existing criminal justice institutions. While most Republicans hardened their stance on law and order during the Trump era, a significant number of Democrats seemed to have opened their eyes to the ways in which the institutions of criminal justice perpetuated racial inequality.
Horrendous smartphone and bodycam videos have shown how violent police have too often become in confrontations with African Americans over very small infractions. Policing methods adopted since the 1980s, such as stop-and-frisk, increased the odds that Americans of color would find themselves in direct standoffs with police officers.
If many Democrats walk away from the pervasive problems that have moved to the center of the national debate, they will be making a grave mistake and will set back civil rights for at least a generation, just as occurred after the 1960s.
In the end, the nation must realize that true "law and order" depends on racial justice. Presenting these two goals as a binary misses the point. A genuine system to achieve safety in our cities and suburbs depends on redistributing government money to relieve the police of many obligations they are not suited to handle — such as police calls to deal with mentally ill subjects appearing to put themselves or others in danger — and leading to fraught encounters.
It means funding services that will help ameliorate social problems that often fuel crime, as well as limiting access to the guns being used on the streets. Law and order means achieving accountability in police departments so that civilians of all colors can trust the police they see on the street to be there to protect and work with them rather than threaten them. Otherwise, policing will never be effective, as the Kerner Commission pointed out back in 1968.
Once the debate accelerates, more Democrats might be seduced into a "tougher" kind of stance. But if Democrats move away from reform based on political expediency, neither party will be prepared to give support to the changes that are urgently needed to eliminate the institutional racism that remains pervasive in our criminal justice system.
Despite what some Democrats are now saying, and what most Republican leaders have already been repeating on a regular basis, true safety depends on a socially just system.
[ad_2]

Source link