Opinion: Why Andrew Yang's mayoral campaign failed
[ad_1]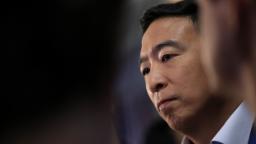 Yang entered the mayoral campaign fresh off an unsuccessful presidential campaign, where his innovative ideas around universal basic income, sharp focus on the challenges posed by automation and artificial intelligence, and upbeat demeanor seemingly caught the attention of pundits and voters alike.
Yet he failed to realize the kind of coalition he would need to build to win a Democratic primary in New York. Instead of focusing much energy on Black and Latino voters, he tried to cobble together a new coalition of Asian Americans, ultra-Orthodox Jews and young moderates. And, even in that, he appears to have only partially succeeded.
While there is no exit poll data, according to a New York Times map created from Board of Elections data, Yang
performed well
in the Chinese Americans parts of Queens and Manhattan.
But overall in Queens, which should have been his strongest borough because of its substantial Asian American population, Yang
finished
a disappointing third behind two African American candidates, Eric Adams and Maya Wiley. Yang also finished third in Staten Island, the borough that produced by far the fewest votes in Tuesday's primary, and fourth in the other three boroughs.
But there is more to Yang's dismal showing than just demographics and the enduring power of the Black vote in New York City Democratic politics. During the campaign, Yang transformed from the upbeat and innovative candidate we saw in 2020 presidential race into a seemingly angry urban reactionary.
Yang has run for office twice and lost badly each time, so he likely does not have a future in elected politics. Some might say this is unfortunate since Yang has a lot to offer. But based on what we saw Tuesday, New York Democrats decided they weren't interested in anything the former presidential candidate was offering.
[ad_2]

Source link