Face mask guidelines: What if the government got it wrong on masks again?
[ad_1]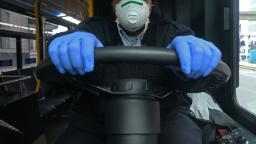 The World Health Organization is encouraging even the vaccinated to keep the masks on, particularly indoors, as
the Delta variant of Covid-19
ricochets around the world.
These are different organizations with different missions. The WHO is targeting an international audience, which includes many countries with low vaccination rates.
The CDC is targeting the US, which has a relatively high vaccination rate, particularly in certain states. It framed the new guidance that the science shows masks aren't necessary for the vaccinated as a nudge for people to get vaccinated.
But that doesn't jibe with the WHO officials' guidance.
"There are several safe and effective vaccines that prevent people from getting seriously ill or dying from COVID-19. This is one part of managing COVID-19, in addition to the main preventive measures of staying at least 1 metre away from others, covering a cough or sneeze in your elbow, frequently cleaning your hands, wearing a mask and avoiding poorly ventilated rooms or opening a window," the guidance states.
That's been reinforced as Covid ravages Latin America and Africa.
About-face on masks
Now some local US governments are also doing an about-face on masks.
In Los Angeles County, local officials took the precaution of reinstating mask guidance for public indoor spaces, regardless of vaccination status.
Calling it a "precautionary measure," the Los Angeles County Department of Public Health issued the voluntary mask guidance Monday, saying it was necessary until health officials can "better understand how and to who the Delta variant is spreading."
In Illinois, Gov. J.B. Pritzker this week encouraged people to carry masks with them even after they're vaccinated.
There has already been some frustration among US health officials at how the CDC's guidance, which came as something of a surprise, has been interpreted, or, actually, misinterpreted.
Fauci and the government lack consistency on masks
He and other experts counseled against wearing masks early in the pandemic, only to reverse course.
Our understanding of the virus and the science has clearly evolved since then. But keeping track of mask mandates and recommendations can feel like a full-time job. It might be difficult for the government, now that it has relaxed guidance, to go in the opposite direction.
Most states have abandoned mask mandates for the vaccinated, although there are still many rules for public transportation and schools.
The biggest question mark may be in schools, since children under 12, who aren't able to get vaccinated, may be driving the Delta variant spread.
Masks, for whatever, reason, really hack some people off
There is also the group of people who will wear masks from here on out. When CNN wrote about the lasting effects of the pandemic, it spoke with experts who foresee masks becoming a permanent part of our arsenal against the coronavirus and other viruses or bacteria.
[ad_2]

Source link