Biden tries to walk back comments on infrastructure bill to stem GOP defections
[ad_1]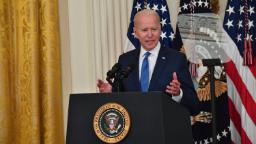 Biden wrote in the Saturday statement that his comments "created the impression that I was issuing a veto threat on the very plan I had just agreed to, which was certainly not my intent."
His efforts to clean up those comments amounted to one of the most significant course corrections of Biden's highly disciplined presidency, which had until now mostly defied his reputation as a gaffe machine.
"The bottom line is this: I gave my word to support the Infrastructure Plan, and that's what I intend to do," Biden said Saturday. "I intend to pursue the passage of that plan, which Democrats and Republicans agreed to on Thursday, with vigor."
Still, Biden said, "I have been clear from the start that it was my hope that the infrastructure plan could be one that Democrats and Republicans would work on together, while I would seek to pass my Families Plan and other provisions through the process known as reconciliation."
The statement stands in contrast to Biden's East Room remarks Thursday, where he warned, "What I expect — I expect that in the coming months this summer, before the fiscal year is over, that we will have voted on this bill, the infrastructure bill, as well as voted on the budget resolution. But if only one comes to me — if this is the only thing that comes to me, I'm not signing it. It's in tandem."
The remarks quickly drew criticism from Republicans, including Senate Minority Leader Mitch McConnell, who warned in floor remarks Thursday, "That's no way to show you're serious about getting a bipartisan outcome."
While Biden's advisers believed his sentiment was accurate — they want both deals passed in tandem — they acknowledged the tactic of demanding as much publicly was too forward and needed to be softened, as CNN has previously reported.
In their public comments, White House officials — including press secretary Jen Psaki — declined to directly reiterate Biden's threat of leaving the deal unsigned if the larger package doesn't materialize.
White House officials believe it has long been clear the two packages would move together and publicly scoffed at suggestions lawmakers were caught by surprise. But Biden's ultimatum did appear to test the durability of the agreement, leading the same aides who negotiated the deal to get back on the phone with lawmakers Friday who were balking.
Steve Ricchetti and Louisa Terrell, two of Biden's lead infrastructure negotiators, reached out on Friday to members of the bipartisan Senate group amid the Republican furor over Biden's remarks about the legislative process, according to a White House official.
Earlier Friday, White House aides scheduled a midday call with Democratic Sen. Kyrsten Sinema of Arizona, who'd led negotiations for Senate Democrats, to reassure her of where Biden stood. The White House released a readout of their conversation — an unusual move typically reserved for foreign counterparts — that said Biden and Sinema discussed his plan to try to build support for the agreement among both Democrats and Republicans. A senior administration official acknowledged they were attempting to walk back Biden's remarks and directly tied his conversation with Sinema to that effort.
Going forward, the White House plans to focus on selling the bipartisan bill instead of getting involved in the order of when Biden receives the legislation, letting Democratic leadership handle the timeline.
Biden will take his sales pitch for the bipartisan infrastructure agreement on the road, starting with a speech in Wisconsin on Tuesday, a White House official said.
This story has been updated with additional background.
Kevin Liptak, Kaitlan Collins, Phil Mattingly and Lauren Fox contributed to this report.
[ad_2]

Source link