Architect: Miami is my home. I am struggling to reconcile how Champlain Towers South could have partially fallen (opinion)
[ad_1]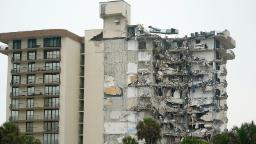 I have spent the best part of my career here designing and preserving historic structures that can withstand what nature throws at them — the flooding and erosion from extreme rains and high tides, the projectiles tossed by tropical storms and hurricanes. We Miami architects design apartment buildings — vertical homes — following the highest standards in safety, like high-impact windows and reinforced concrete structure on vertical pilings, without sacrificing the structural allure that makes Miami so breathtaking.
I was up before dawn as usual on Thursday to make coffee and watch the sun come up. I sat outside, opened my phone and
saw the reports
of a collapsed building on the 87th block of Collins Avenue in Surfside:
Champlain Tower Condominiums.
I was in high school in 1981, the year it was built. Its concrete piles, shear walls and columns with floors of horizontal concrete slabs represented what has been the gold standard of coastal construction for nearly 100 years.
To be certain, over the course of the days, weeks and months ahead, forensic engineers will shed light on what went so terribly wrong.
I am moved by the cohesive efforts of the first responders, the city and government officials, media and my neighbors, as we rally our efforts. But my heart is heavy with the loss of life from this tragedy. Miami is my home.
The collapse at Champlain Towers is unique, and not necessarily representative of the potential problems of such construction. When the cause of a structural compromise is revealed, it must be treated as an opportunity to reevaluate our maintenance and inspections, materials and construction to innovate.
Every day, I am inspired and humbled by my role and responsibility as an architect.
[ad_2]

Source link